DJI Mavic Air – a smaller Mavic with higher bitrate.
The newest drone from DJI is called Mavic Air and was introduced this week. It retains the same compact design as its big Brother Mavic Pro with foldable arms and has the same, or better, picture quality.
Learn more about Mavic Air here and assess whether Mavic Air will replace Mavic Pro or coexist as a new part of DJI's Mavic family.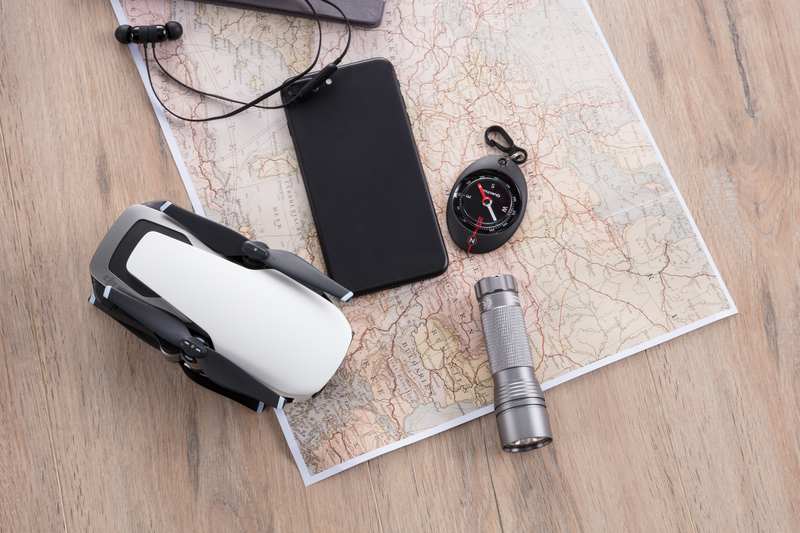 DJI Mavic Pro or Mavic Air?
DJI's R&D department is not known for taking breaks, and the company is spitting out new drones at an extreme pace that is sure to also discourage Western companies from trying to compete. And those who do Quickly exits the market and often with a large financial loss. Based in China, DJI has many highly trained human resources and low wages at hand, and no Western company can enter the consumer drones market for the foreseeable future unless they invest (risk) huge resources and time.
They launch new drones with new features when available (not always when they're ready), and with their mass production, it means that cheaper drones like Mavic Air can also get new advanced features like slightly more expensive, older drones like Mavic Pro have not.
Although it might be a pity for new owners of the Mavic Pro drone, it's just the way the market works. In an extremely competitive market, there will constantly come new, more advanced, cheaper, smaller drones to ensure that DJI is the world's leading manufacturer to drones.
So forget about always having the latest drone with the latest features unless you're willing to buy a new drone once or twice a year.
Similarities
Mavic Air and Pro are similar to each other with their foldable propellers and compact design. But when you keep them up against each other IS's small size markedly and it is not much bigger than a big smartphone when folded together.
300 gram Lighter
With a weight of 430 gr, Mavic Air 300 gr is lighter than Pro. i.e. it weighs almost half! The arms are also shorter, so the propellers will not reach so far out to the side and its manoeuvring properties, especially indoors, will be much better without compromising image quality.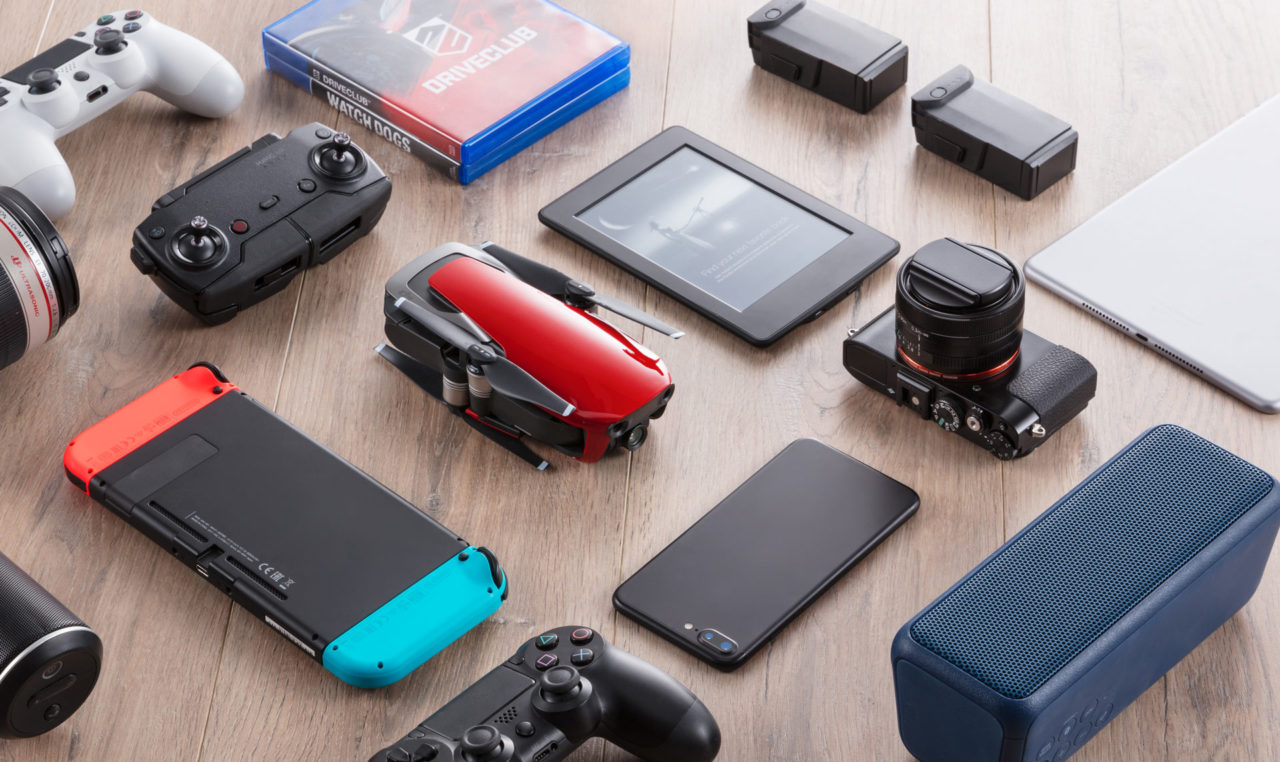 Flight time: 21 minutes
The smaller battery means 6 minutes shorter flight time compared to Mavic Pro – you can fly about 21 minutes. It probably doesn't mean Earth, but you still have to make reservations about the fact that DJI is notoriously unreliable when it comes to things like reach and flight time. Rain with a two-three minutes less than the enlightened. When it is said, I very often land my Mavic Pro before the battery is about to be down at the recommended 30% and it is my guess that the flight time for a Mavic Air will be satisfactory for most.
Wide-angle – same or better image quality
And then to the most important part; Both Mavic Pro and Mavic Air have the same 1/2.3 ″ sensor, and the Mavic air recorder with an F/2.8 lens in the equivalent of a 24mm Field-of-View (FOV). The new 3-axis gimbal is mounted on rubber dampers to reduce vibration and be able to absorb more quiet shots.
The new 3-axis gimbal stabilizes better and allows recordings with slower closing time and FX. HDR Recordings.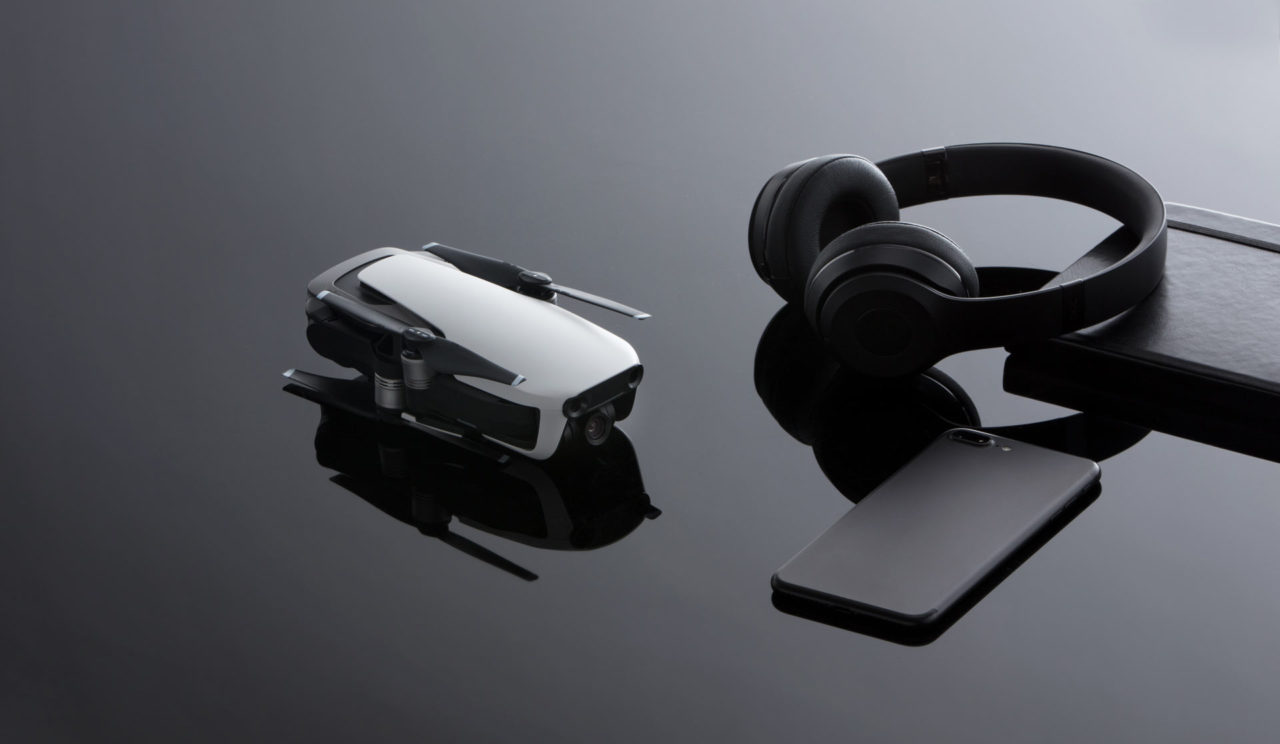 Higher Bitrate – 100 Mbps!
It's probably Mavic's most interesting feature. DJI informs that Mavic Air with a bitrate of 100Mbps has the "highest video quality" in a consumer drone (which so probably does not include the Phantom series). Mavic Pro has a bitrate of 60Mbps.
Seen from an editing perspective, so can 100Mbps bitrate make a huge difference in quality. One of Mavic Pro's problems has been that even though it has been able to record OK footage, they are not really good. This is primarily due to compression. It often burns out in highlights and footage in the D-Log is near useless because of the high compression.
now offers DJI so instead 100Mbps which is synonymous with 40% more data in the same image (with the same sensor, but good enough with more wide angle), and it can easily mean a big difference in quality. We just received a Mavic air and will probably follow on the quality of the Mavic air camera.
Slow Motion: 1080p in 120FPS
DJI Mavic Air can record 1080p (HD) in 120FPS for use in slow motion shots. Mavic Pro can only record 96FPS in HD, but you should be aware that DJI's downsampling of higher framerates is not always very pretty, but it must depend on a sample.
8GB onboard Memory
Should you be in the unfortunate situation of having forgotten a memory card when you stand and need to fly then it seems that DJI can now help you. Mavic Air will have 8GB of built-in memory for both photo and video – Fortunately, you can still use a normal MicroSD card and DJI informing that the drone supports up to 128GB. A new USB-C connection allows downloading of footage directly from the drone.
New Scene Modes - Sphere Panorama 
With a new "Sphere Panorama" mode, Mavic Air can automatically record and stitche up to 25 photos in a minute and deliver a 32mb panorama image. It can make horizontal, 180 degrees and vertical panoramas.
New QuickShot Intelligent Video modes
We have already seen some of these modes at Mavic Pro – such as Point-of-Interest – where the drone automatically circles around an object (yourself). Now DJI has added two new modes: Astroid and Boomerang. DJI describes Astroid as: "Astroid starts with an spherical image that zooms in while its flying closer to the object on the ground, while "Boomerang circles around an object in an oval circle where the video ends in the same place as it started". Hmmm.. sounds more like fun than a really useful feature. Maybe it's just another one of the features you try once and then forget about. It's got to be a test.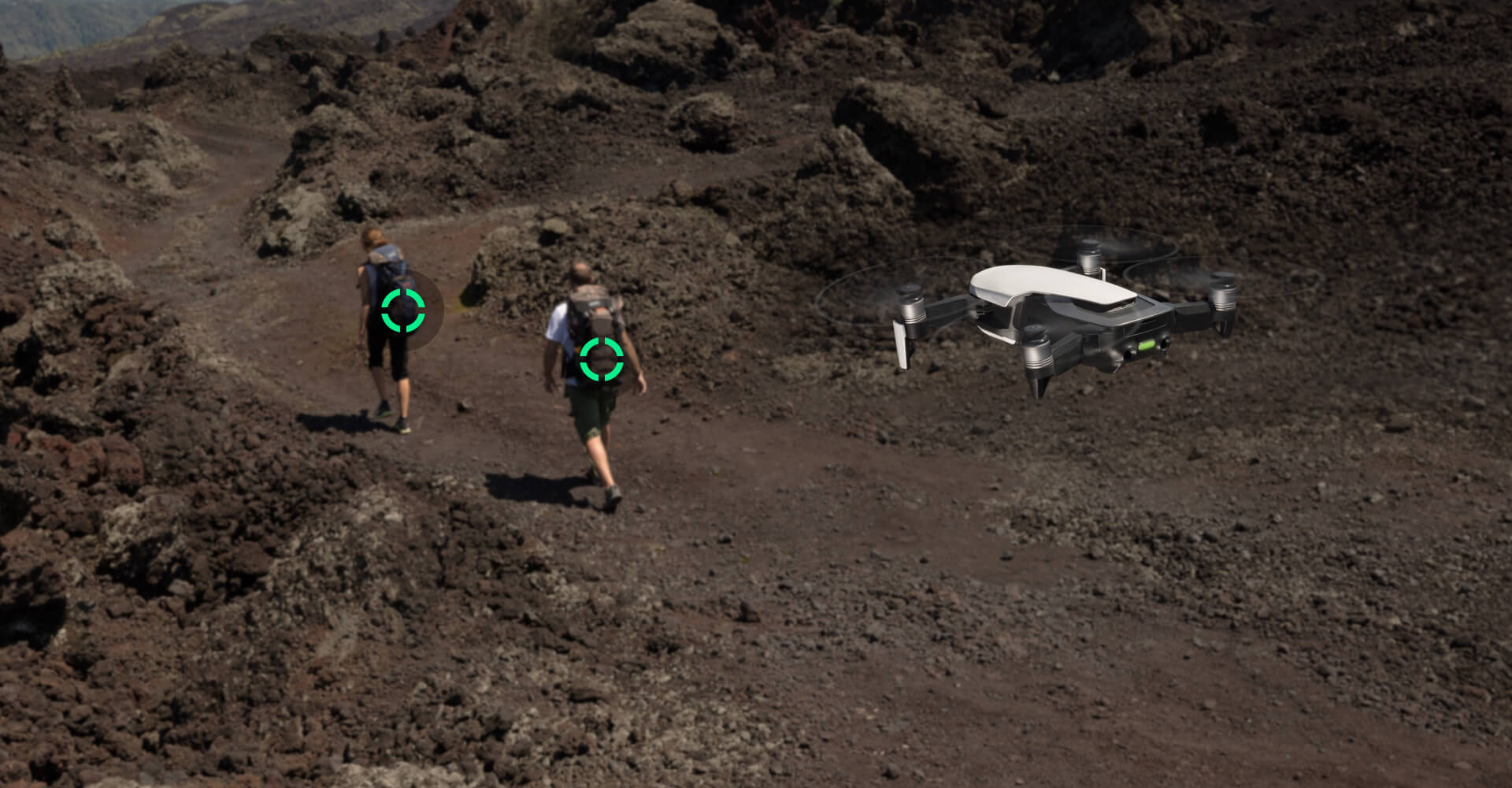 Improved ActiveTrack Intelligent Flight Mode
DJI says they have improved their ActiveTrack Mode which can now distinguish between multiple objects at the same time and has become better (more accurate) to follow an object.
SmartCapture
One feature we saw first time with Spark which is now transferred to Mavic Air with a hand movement is "SmartCapture". You can lighten, follow, record photo and video or the country drone from which as a hero angle without using your remote. Certainly not a feature you can use for anything professionally, but a fun gimmick. It hasn't always worked optimally on a kick, so let's hope DJI has improved it now.
More Security 
Sensors technology is constantly evolving, resulting in better "Obstacle Avoidance" and terrain recognition than ever before. Mavic Air is also the introduction of "Advanced pilot Assistance Systems" which helps pilots to automatically avoid and fly around obstacles.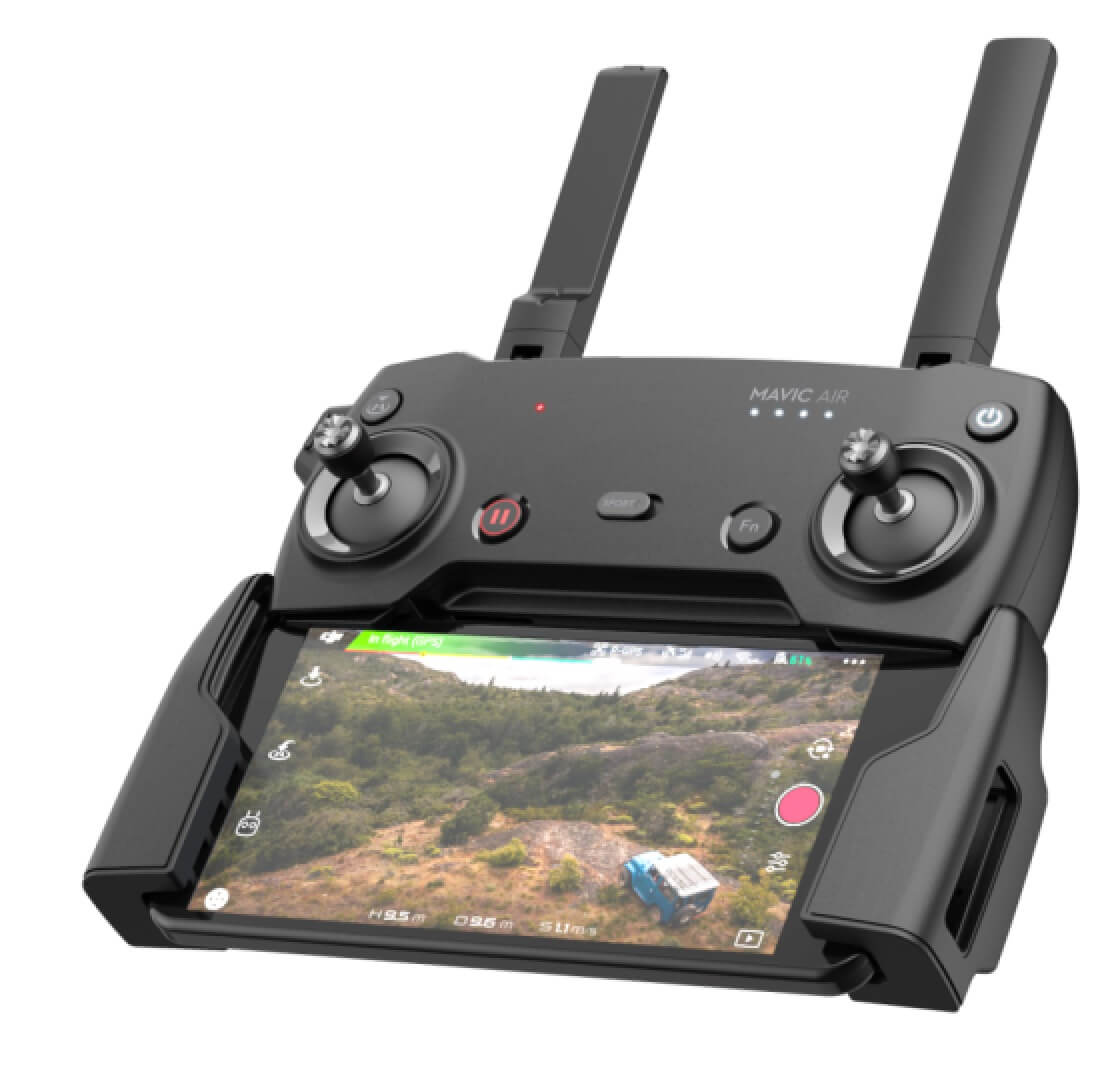 Remote
Mavic's remote, apart from not having an LCD display, is pretty much identical to the Mavic Pro remote. Immediately have the same functionality and range despite being connected via WiFi and not Ocusync technology. WiFi flights are more susceptible to interference so it will be exciting to see if it is also the case with Mavic Air. Kontrolsticks'ene can be dismantled and stored inside the remote for an even more compact design.
Colors
DJI Mavic Air comes in the creatively named colors: Artic White, Flame Red or Onyx Black. Or just white, red and black.
You can already buy DJI Mavic Air at the moment.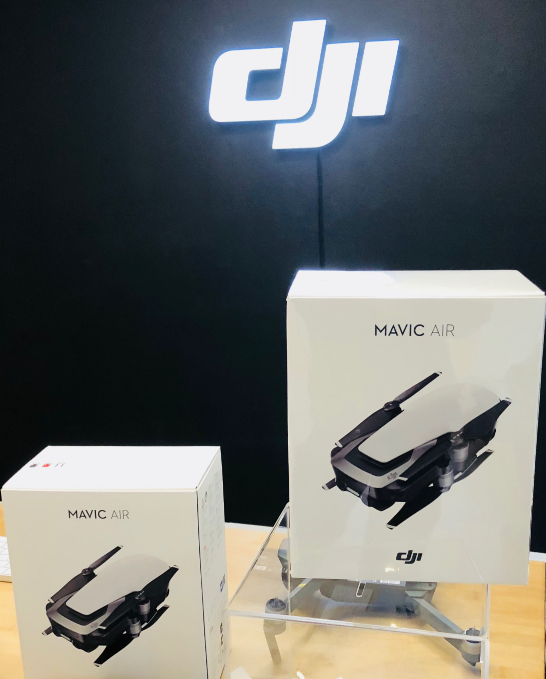 At Airflix.dk we have a Mavic Air which we try to fly and test the next days. We look forward to sharing a bit of what it can perform. Follow this page for more info.
If you have any questions about Mavic Air Let us hear from you in the comments below.